TUTORIAL - UPLOADING AND MANAGING YOUR MUSIC FROM YOUR PC/MAC...
1. To prepare your Tapeless Deck for first use, turn on WiFi connectivity in deck smartphone and log in to your home network. Remember that both Tapeless Deck and computer must work in the same network.
2. Click AirDroid icon and wait a while for the next screen. At the first use it may take some time...
3. Find and click blue "AirDroid Web" icon. It may be covered by ads, so look carefully...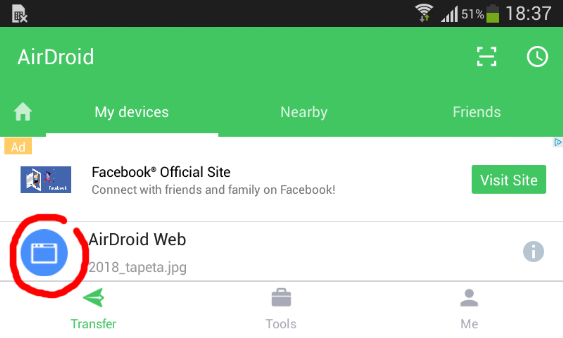 4. Wait for the AirDroid server to start and rewrite given address exactly in the web browser on your computer.
5. Remember, do not rewrite the address from this tutorial, the numbers probably will be different - use address actually provided by AirDroid :)

6. Accept connection on phone screen
It's a good idea to have your music organized in folders before transfer - by artists, albums, genres and so on, but if your files are correctly tagged, Tapeless Deck app will sort it automatically.
NOTE! In some cases, when the Tapeless Deck app can't find freshly uploaded songs (especially after big transfers), just restart the phone. Hold the phone switch for a few seconds, wait for a menu to appear and select RESTART.
TUTORIAL - HOW TO REMOTE CONTROL YOUR TAPELESS DECK...
SECTION I
INSTALLING REMOTE CONTROL SOFTWARE ON THE TAPELESS DECK:
NOTE: If you bought your deck within the last year, all necessary
files was probably installed on your Tapeless Deck in standard.
Please check, if
QuickSupport
app shows inside the
Apps
folder:
If
YES
, you may go directly to
SECTION II
of this tutorial. If
NOT
, please follow the steps below:
1. Upload these two files to your computer:
2.
Send both files to Tapeless Deck phone via AirDroid

in
the same way you usually send music files. Put them into main folder (recommended). Close AirDroid connection.
3. On the main screen of Tapeless Deck phone tap Apps icon:
4. Tap My Files icon:
5. Open All Files folder:
6. Install both apps:
SECTION II
INSTALLING REMOTE CONTROL SOFTWARE ON YOUR SMARTPHONE:

1.
Install the actual version of
TeamViewer
on
your own smartphone/tablet
which you want to use as remote control. (Android or iOS version - you will find it at
Google Play
or
Apple Store
).
SECTION III
USING THE REMOTE CONTROL:
1.
On the main screen of Tapeless Deck phone tap
Apps
icon:
2. Find and run QuickSupport app:
3. Wait until Your ID number will show on screen
4. Run TeamViewer on your own smartphone, type in Partner ID number - the same as on Tapeless Deck phone. (Do not use numbers from this tutorial :)
Tap REMOTE CONTROL button to connect both devices.
5. Accept connection on Tapeless Deck phone to pair both devices via your home WiFi:
6. Done!
If you like it, buy full version of TeamViewer!
---
---
Is there something still unclear? Just
let me know
- I will complete this page with missing information.