FREQUENTLY ASKED QUESTIONS...
and the most common answers :)
It' s a combination of a original vintage cassette recorder and a vintage smartphone :) The heart of the system is a touchscreen smartphone equipped with dedicated software and memory for music storage. Phone is permanently mounted inside mechanically reworked cassete compartment (some of the deck mechanisms are removed). Phone is also electrically modified and connected to deck circuits to keep all systems going - e.g. working level meters, some regulations, adjustable output level and so on. All functions are operated by touching phone screen. It is not a rocket science, neverthless each deck needs a lot of experimenting, some clever electronic tricks, heavy mechanical works like sawing, cutting and drilling; soldering, tons of glue and at last - a little bit of craziness and creativity :) In effect each of my Tapeless Decks is a unique handcrafted masterpiece, the only one of its kind in the world :) Enjoy!
---
BEFORE YOU BUY A TAPELESS DECK
How much is it?
It depends. Finished and ready-to-use decks have a given price. Please see the offer in my collection. When I convert a new deck (from my collection or given by the customer), the price depends on many factors - mechanical and electrical construction of deck, the complexity of work, used components, amount of memory and so on. Just contact me, I will try to estimate the costs for you.
How long does it take to convert the deck?
About a week, from the moment I complete the necessary elements - a suitable deck, good smartphone, memory and other parts I need to conversion.
Is every deck suitable for conversion?
Not everyone. Some tape recorders are not suitable for processing due to their mechanical and electrical design. The old, simple vintage decks with mechanical keys are my favourite choice for conversion, but I also work with more modern, sotf-logic recorders. Deck intended for conversion must be electrically functional. Audio circuits, inputs/outputs, level meters, regulations, switches, etc. should work correctly. Engine, belts and gears are not important, may be broken or damaged.
Will the TapeLess Deck work normally as a tape recorder?
Unfortunately not. During processing, many mechanical parts are removed forever, so you will no longer be able to use the cassettes. Never ever. The conversion to Tapeless Deck is irreversible.
What is shipping cost to my country?
Please check the SHIPPING page - you will find delivery prices to most european countries, USA/Canada and other info.
How can I pay for the deck?
I accept PayPal payments and bank transfers
Is there any warranty for the deck?
Tapeless Deck is a combination of very old vintage deck and old phone. As with all used, second-hand devices, the warranty is limited. I guarantee that every Tapeless Deck works exactly as described in detailed page and it has all functions shown in product movies, but I can't guarantee that it will last forever :)
---
How can I listen to the music?
In many ways. Every Tapeless Deck offers a lot of possibilities - MP3/FLAC player with cassette animation, Internet radio and FM radio. If you want, you can install any Android application - for example your favourite music streaming service: Tidal, Spotify, Dezeer, Pandora... or whatever you need. Just imagine, do it and enjoy :)
How can I upload music to Tapeless Deck?
All operations take place wirelessly, using any computer (PC/Mac) in your home WiFi network. Just log in your Tapeless Deck to your home WiFi and run AirDroid application that will help you to manage music files. Uploading, deleting, making folders, sorting - anything you wish. See TUTORIAL section below for more details.
How to use Tapeless Deck app?
Please watch the movie below:
How is the smartphone powered? Should I charge the battery?
There is no battery inside, you don't need to charge it. The phone is always in standby mode, powered by a modified charger all the time while the deck cord is connected to power supply.
How can I operate the phone inside the deck?
Just like a standard phone, with one exception - since the phone is built into the deck and the ON/OFF swith is inaccessible, so it was electrically connected to one of the keys in the deck. This key works exactly the same way as phone button - you may switch the screen on/off, turn the phone on/off or restart the system in case of any problems. The rest is as simple as using a smartphone - just touch the screen :)
Should I connect the deck to the amplifier?
Sure, just like a regular deck - using an RCA/cinch cable. The output signal has standard parameters and fits all home amplifiers. In some Tapeless Deck models you can adjust the level of the output signal using dedicated knobs or sliders.
How much memory is available? Can I add more memory later?
Tapeless Deck is equipped with 8GB storage as a standard. Expansion to 16 or 32GB is possible with extra cost. You should choose the memory size before purchasing ready deck or before ordering conversion of your deck. Later it will be very hard to upgrade the memory without disassembling the deck. Better don't try this at home :)
Can I connect the Tapeless Decks with my network drive?
If you have a NAS, you can stream the music to Tapeless Deck. All you need is to install a dedicated software distributed by NAS producer (Android version). For example, if you use Synology drive, you will need DS Audio app.
TUTORIAL - UPLOADING AND MANAGING YOUR MUSIC FROM YOUR PC/MAC...
1. To prepare your Tapeless Deck for first use, turn on WiFi connectivity in deck smartphone and log in to your home network. Remember that both Tapeless Deck and computer must work in the same network.
2. Click AirDroid icon and wait a while for the next screen. At the first use it may take some time...
3. Find and click blue "AirDroid Web" icon. It may be covered by ads, so look carefully...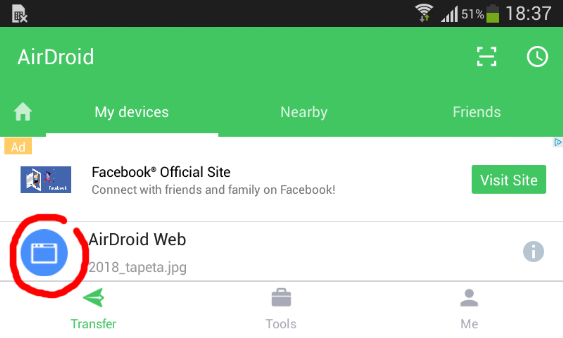 4. Wait for the AirDroid server to start and rewrite given address exactly in the web browser on your computer.
5. Remember, do not rewrite the address from this tutorial, the numbers probably will be different - use address actually provided by AirDroid :)

6. Accept connection on phone screen
It's a good idea to have your music organized in folders before transfer - by artists, albums, genres and so on, but if your files are correctly tagged, Tapeless Deck app will sort it automatically.
NOTE! In some cases, when the Tapeless Deck app can not find freshly uploaded songs (especially after big transfers), just restart the system. Hold the phone switch for a few seconds, wait for a menu to appear and select RESTART.
---
Is there something still unclear? Just
let me know
- I will complete this page with missing information.